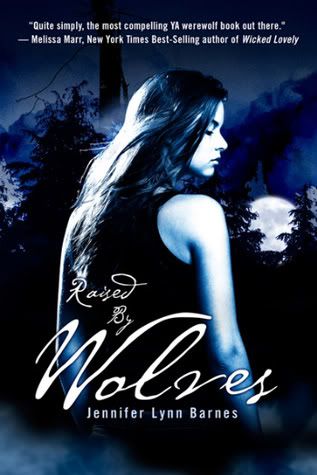 -THIS IS A VERY OLD REVIEW-
Title:
Raised by Wolves by Jennifer Lyn Barnes
Series: book 1 in the Raised by Wolves series
Available formats: ebook, paperback, and hardback
Details: released June 8th 2010
Source: bought
Adopted by the Alpha of a werewolf pack after a rogue wolf brutally killed her parents right before her eyes, fifteen-year-old Bryn knows only pack life, and the rigid social hierarchy that controls it. That doesn't mean that she's averse to breaking a rule or two.
But when her curiosity gets the better of her and she discovers Chase, a new teen locked in a cage in her guardian's basement, and witnesses him turn into a wolf before her eyes, the horrific memories of her parents' murders return. Bryn becomes obsessed with getting her questions answered, and Chase is the only one who can provide the information she needs.
But in her drive to find the truth, will Bryn push too far beyond the constraints of the pack, forcing her to leave behind her friends, her family, and the identity that she's shaped?
This book was overall a very nice read, I absoulty love books on wolves(wolverines) and what not to this was great. It has everything in it, some comedy, action and a little bit of love. The main thing i liked in this book were the characters, not just the main girl bryn, but callum the alpha and the wolf that found bryn and took her in, chase the boy locked in the cage in callums basement, dev her best guy friend who is very protective of her and lake her best girl friend thats hilarous, all totally won my heart in this book. If your more into paranormal ROMANCE I wouldn.t recommend this book, it has hardly any at all even though the description may give you the idea there is some.
Although i truley did love this book, and am excited for the second one i kinda was hopping there was gonna be more romance between chase and bryn, or chase and anyone for that matter, but there wasnt, but with that said i still recommend this book (: