Girl behind the blog
Welcome! My name is Haley, I'm a 27 year old book-aholic. I'm a book reviewer for the RiverTalk Newspaper. I love reading YA, NA, and adult paranormal mostly, but I do go into other genres on occasion. If you want to talk more one on one about books, please don't hesitate to contact me on facebook or twitter, I love making new bookish friends!
Current Giveaways

Come back soon!
Rating system
1 star:

Wasn't my cup of tea

2 stars:

It was okay

3 stars:

Was an enjoyable read

4 stars:

Enjoyed this termendously

5 stars:

Wow, perfection, I'm in love
I'm going to post about every book that I start reading, just to see what you guys think of it, or if you've read it tell me what you thought of it (Without Spoilers!!) So here's what I just picked up: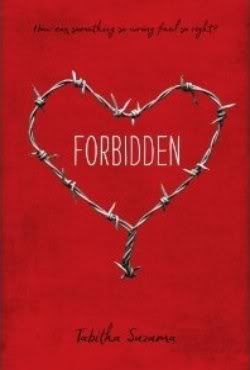 Forbidden by: Tabitha Suzuma
Pages:464
Description:
Seventeen-year-old Lochan and sixteen-year-old Maya have always felt more like friends than siblings. Together they have stepped in for their alcoholic, wayward mother to take care of their three younger siblings. As defacto parents to the little ones, Lochan and Maya have had to grow up fast. And the stress of their lives—and the way they understand each other so completely—has also also brought them closer than two siblings would ordinarily be. So close, in fact, that they have fallen in love. Their clandestine romance quickly blooms into deep, desperate love. They know their relationship is wrong and cannot possibly continue. And yet, they cannot stop what feels so incredibly right. As the novel careens toward an explosive and shocking finale, only one thing is certain: a love this devastating has no happy ending.
I've been wanting to read this book for awhile now, it has been out for sometime in out countries, but just a week ago it was released in the US. So I'm REALLY excited to start this. Now I know this is a very controversial book, because of the topic it is written about, but I still really want to read it..does that mean I think incest is okay? no it doesnt, cause I dont think it is okay. Can I still enjoy this book and think it's beautiful? Yes I can. Almost all the reviews I have read for this book said it was a very powerful read.. So with that Im going to log of my blog now and start this (:
what do you guys think of this book? And if you've read it, how did you like it? (: