Hey book lovers! This month there is a crazy giveaway hop going on, when I mean crazy I mean CRAZY there are almost 300 blogs apart of this giveaway hop, yeah you heard me right almost 300! This amazing giveaway hop is hosted by
I am a Reader not a Writer
and
Rachael Renee
. It runs from Feb 7th-Feb14th (Alot of people already have theirs posted! Click I am a Reader not a Writers link to see all the other blogs participating and the links to their giveaway!)
So as you guys know, this month is Zombies VS Unicorns month for myself and a few other bloggers SO to go with the Follower Love Giveaway Hop I am going to giveaway a book that has romance AND ....UNICORNS! I am doing the unicorn part of the follower love, and Giselle who is on team zombie, is also giving away a zombie book to go with the Follower Love hop! To go enter her's go
here
Books to choose from
Click cover to find out what the book is about!
Details
Giveaway is international
Runs until Feb 14th
One winner will win their choice of either The Light of Asteria or, Drink Slay Love
Extra Entries include following me on Network Blogs (on sidebar) (+1), or adding the Team Unicorn button (shown below) to your blog (+4 !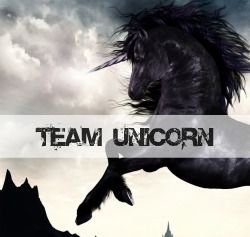 Fill out the form below!
GO TEAM UNICORN!
Don't forget to enter the other unicorn giveaway
going on right now-here
Girl behind the blog

Welcome! My name is Haley, I'm a 23 year old book-aholic. I'm a book reviewer for the RiverTalk Newspaper. I love reading YA, NA, and adult paranormal mostly, but I do go into other genres on occasion. If you want to talk more one on one about books, please don't hesitate to contact me on facebook or twitter, I love making new bookish friends!

Wondering where gfc went?
Check out this post
here
!

Rating system
1 star: Didn't like it, not for me
2 stars: It was okay
3 stars: Wasn't bad, but wasn't great, I liked it
4 stars: I REALLY liked it, enjoyed it alot
5 stars: This was amazing, I am in love