Girl behind the blog
Welcome! My name is Haley, I'm a 27 year old book-aholic. I'm a book reviewer for the RiverTalk Newspaper. I love reading YA, NA, and adult paranormal mostly, but I do go into other genres on occasion. If you want to talk more one on one about books, please don't hesitate to contact me on facebook or twitter, I love making new bookish friends!
Current Giveaways

Come back soon!
Rating system
1 star:

Wasn't my cup of tea

2 stars:

It was okay

3 stars:

Was an enjoyable read

4 stars:

Enjoyed this termendously

5 stars:

Wow, perfection, I'm in love
this is a very hilarious guest post
provided by the author Devri Walls!
Author Devri Walls
Find Devri:
Twitter
.
Blog
.
Website
.
Facebook
Devri has an upcoming book called Wings of Arian, and guess what is in her novel? a Pegasus! The coolest thing in the world besides unicorns are Pegasus! The book sounds simply amazing, and I personally cannot wait to read it! (or see the cover!) Here is the blurb for her upcoming novel! (:
Wings of Arian will be released on Amazon in April 2012.
Kiora thought she had never heard a lie until she was sixteen. But she was wrong. Her entire existence was based on nothing but. She thought that evil did not exist. Lie. That magic was not real. Lie. And that the land of Meros was all there was. One more lie.
With Aleric telling her that evil is knocking on the door and that she is the only one who can stop them she has a choice to make. Refuse, or start the wildest most painful ride of her life.
She reluctantly dips her toe into her new existence of magic and threads, dragons and shapeshifters, and the person who wants to take control of it all: the evil Dralazar.
And now it comes down to, If you had never heard a lie, would you know one when you heard one? Is knowing good from evil innate? Kiora finds herself having to decide who lives and who dies on those very questions.
I have zombie loving friends, zombie loving acquaintances and zombie loving twitter tweeps. But, its time I came out of the closet.... GO TEAM UNICORN! There, I said it. It's not that I don't
love
you zombie lovers. I do, really. I just have some problems with the object of your affection. I mean guys, come on! There is the whole dead thing, which unless you are a super hot vampire, is not the most desired characteristic.Then there's the mindless, moaning bit. Try watching a movie with that moaning droning on and on... ALL night! Wait! They would try to eat you first, turning you into one of their zombie friends, and then YOU are the dead, moaning, mindless things that can't even enjoy a Saturday night movie anymore!
Sigh.
Puts a damper on your social life don't you think?
Now, lets compare the flesh eating, flesh dripping, mindless droning hordes to, the unicorn. (Insert angelic music streaming from the heavens here.) Did you get that? Good. Unicorns are the symbol or purity, messengers of good and posses magical powers. Now, who would you really rather watch a movie with?
I will however, concede the fact that as an adult it is socially unacceptable to dress up in a unicorn costume for Halloween. (I would like an explanation on that by the way.) While it is completely cool to be a zombie bride, zombie prom date, zombie house wife.... you get the point. Fine! On Halloween, you and the ravaging hoard wins. But lets face the facts, if a zombie and a unicorn were to say, battle it out....the unicorn would kick some zombie BE-hind!
Even my x-box addicted, zombie killing (completely adorable) husband has spent a rather large amount of time today giving me scenarios in which the unicorn comes out the victor. Such as; Unicorn stabbing zombie with horn. Unicorn most likely being immune to zombies death powers. Or a swift, hoofed kick to a zombie's head. Maybe a midsection kick, that would certainly leave the zombie in two pieces. This would leave the zombie pathetically crawling across the ground with their arms. The unicorn would then of course, step on them and crush their skulls like a watermelon. My husband's words, not mine. But I thoroughly enjoyed listening to his descriptions and had to share.
All of these fun and amusing facts aside, I side firmly on Team Unicorn because they are so steeped in magic and folklore, I can't help but love them. As a little girl my sisters and I would play "unicorns and pegasus" on the trampoline. (By the way, it is very important this game be played on the trampoline, as the bouncing on hands and knees gets you much closer to flying.) I had a unicorn border running around my room, of course. Didn't everyone? Glass unicorn figurines on my shelf. (That my brother intentionally threw on the floor when he was mad at me.) Posters and paintings hung on the walls. And now as an adult I have written my first novel to be released in the spring,
Wings of Arian
, which includes.....well, not a unicorn. I hide my head in shame!
But
, it does have a pegasus. As they are both magical horses, I say its close enough! Both, by the way, would kick zombie BE-hind!
I have to thank Haley for inviting me over to Team Unicorn, this post was a BLAST to write! Hopefully I can visit again later and we can chat pegasus! You can find me on Facebook and Twitter under Devri Walls. You can also read some more of my ramblings at writingmyfuture.com, as well as find a teaser or two for
Wings of Arian
!
Thank you so much Devri for stopping by!!! :D Your posts as very good points as to why unicorns are way better than zombies (
ha you shouldn't even have to explain! People should just know how awesome they are!(;
)!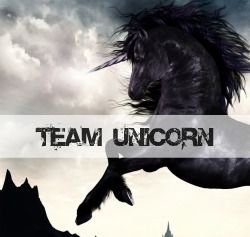 So now you tell us, why can't we wear unicorn costumes?!?!?