Hello everyone! Today is the kick off day to Zombies VS Unicorns month, now what better way to celebrate the launch then to have a giveaway?!? Yes you heard me! GIVEAWAY! Myself and all three of the other bloggers are all going to be holding giveaway for the rest of this month in celebration of Zombies VS Unicorns, now since myself and Anna are team Unicorn..we have unicorn giveaways, and Giselle and Audris have Zombie giveaways! I will leave links to there giveaways below! NOW ONTO THE DETAILS.
Giveaway is international
Winner (one winner) will get one book of their choice (out of the books shown below)
Must be 13 years or older to enter, if you pick A Brush of Darkness you must be at least 18 due to it being a adult paranormal novel
Giveaway will end March 1st!
Team Unicorn buttons are all the rage (;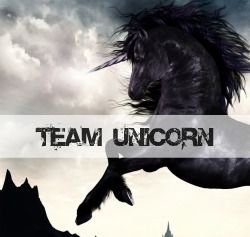 Books to pick from..
each of these books have unicorns mentioned in them
Fill out rafflecopter to enter! :D
a Rafflecopter giveaway
Go enter all the other girl's giveaways too!!!!!!
Enter Anna's Unicorn giveaway
here
Enter Giselle's Zombie giveaway
here
Enter Audris's Zombie giveaway
here
:D