Hey book lovers! It is time again to start another awesome giveaway for you awesome readers! :D This giveaway is going to be the 'Welcome Summer Giveaway' (yay!) Check out down below to see what bundle packs you could win and the details for entering! :D


Bundle Packs YOU could win!
Click book title to find out what the book is about and other details



Bundle Pack #1

Bundle Pack #2


Bundle Pack #3
Bundle Pack #4
Giveaway Details!
One winner will win one of the bundle packs above of their choice
Giveaway is international
Giveaway will run until 7/13/2012
Requirements? You must be following me on something (weather it be on Network blogs, facebook, twitter or youtube, you must be following me on at least one of those!(:)
Must fill out the form below to enter! :D
Down below if you click the pic it will take you to my page/profile
Grab the Giveaway Button (well if you'd like!) :D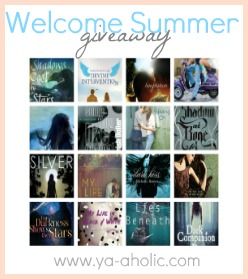 Girl behind the blog?
Hey! My name is Haley, and I am the owner of this little book corner (thanks for being here :D)! I love reading, and watching movies. I'm 21, live on an Island, drink way too much coffee, get really pissy when it's super hot outside (hence why I live somewhere that rains alot), hate brussel sprouts and just really love life right now. YA-Aholic was originally named for my addiction to YA novels (it use to be all I read), but I have recently expanded to also reading and reviewing New Adult, and Adult novels! Want to know more about me or how my book blog got started? Check out the about page
here
.